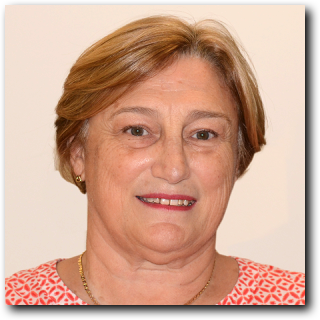 Angela Stevens
, a dynamic choral conductor, teacher and adjudicator, was born in South Africa. During her years at St. Mary's Diocesan School for Girls, Angela excelled at both sport and music. She played the organ in Chapel and conducted the school chapel choir which is where her passion for music and choirs began under the tutorship of Barbara Biesheuvel (Trofimczyk). Angela completed her Trinity College Teachers Diploma and taught in South Africa at St. Mary's D.S.G where she became Director of Music.
She then went on to Kearsney College where she was also Director of Music. During her time as conductor of the Kearsney College Choir, the choir were crowned Olympic Champions of Folklore in both 2000 and 2004 at the World Choir Games in Linz and Bremen respectively. Angela and her choir were awarded the prestigious Prize of the City of Vienna in 2004, participated in live television shows in Hong Kong and Graz, were special guests for the opening events of the World Choir Games in China and Graz and won international choir competitions in Budapest, Hong Kong and Vienna, amongst many other accolades both in Europe and Asia.
Angela`s long and varied international career began in Oman where she mastered styles and techniques of Arabic Music and continued her Music studies, completing her Masters Degree in Music Education. She then moved to Germany where she was Head of Music at Cologne International School, teaching Music Theory, Choir, Orchestra voice and piano. The choir she established travelled to Turkey where they competed in the International Children's Day festival and were invited to sing on the main stage at the opening of the Christmas Markets in Cologne in 2014.
Angela moved to Austria in 2015 where she was Director of Music and Head of Arts at St. Gilgen International School. She established a choir that sang at the opening of the Wolfgangsee Christmas Market and various concerts at the Mozarthaus as well as forged further links with the local community whether through evening dinner soirees or contacts with the Mozarteum in Salzburg.
Angela is an innovative conductor who brings ethnic and cultural diversity to her many choirs whilst instilling a love and appreciation of music to all those with whom she is associated. She teaches piano, voice training, guitar, music theory, harmony and composition. Angela was the Music Examiner for the Independent Examinations Board of South Africa, Part time Choral lecturer for Honours students at the University of Natal, and was Vice President and advisor to the Artistic Director of the KwaZulu Natal Youth Choir. She has conducted workshops with Gerald Wirth, conductor of the Vienna Boys Choir and her choir performed alongside them in the Musiekverein in Vienna. She has also led many diverse choral workshops in South Africa, Germany and Switzerland amongst others. She has been an International Choral adjudicator since 2007.
Angela has recently settled in Dublin with her Irish husband and complements her life of music with yoga, traveling, enjoying nature, spending time with her two grown children and exploring the beauty of Ireland.
The #Sharp Kids Programme is run under the auspices of The
Piano Academy of Ireland
, now celebrating it's 15th year, is run by husband and wife team, Dr.
Archie Chen
and
Rhona Gouldson-Chen
. Rhona met Archie when she hired him to cover her studio (formerly Rathgar Piano) while travelling in 2003 and they have been playing and working together ever since.
To teach a child an instrument without first giving him preparatory training and without developing singing, reading and dictating to the highest level along with the playing is to build upon sand."
Zoltan Kodaly