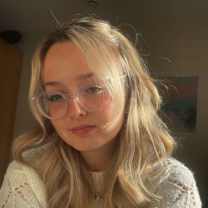 Discover the extraordinary talent and passion of Caoimhe Radford, our esteemed music instructor at the Piano Academy of Ireland. With her vast experience and unwavering dedication, she aims to ignite a spark of musical love in every child she teaches.
Caoimhe Radford is the driving force behind our #Sharp Kids programme. Her unique approach to music education, combining elements of fun and learning, makes every lesson an exciting musical adventure for children aged 3 to 8.
Recently joining the Piano Academy of Ireland as a pre-instrumental teacher, Caoimhe is deeply committed to music education. Currently, she's enhancing her expertise at the Royal Irish Academy of Music and Trinity College Dublin. Such commitment to her craft signifies the depth of her passion and the value she brings to her students.
In addition to her prowess as a music educator, Caoimhe is an accomplished Irish flute and concertina player. Since 2019, she has been sharing her expertise in playing the flute. Her collaboration with the Craanhill senior ceilí band at her Comhaltas, Tuaisceart Loch Garman, is a testament to her profound connection to traditional Irish music.
Radford believes in the innate musicality of every child. By tapping into this natural tendency, she nurtures young students, encouraging them to express their emotions and channel their energy through the universal language of music. Her classes lay a solid foundation for budding musicians, preparing them to learn the piano and other musical instruments.
Beyond her musical talents, Caoimhe brings a global perspective to her teaching style. Holding a TEFL certification in performance and play, she has also imparted the beauty of the English language to children in Italy. This international teaching experience highlights her ability to connect with students from a myriad of cultural backgrounds.
Utilizing the time-tested Kodály method, Radford promotes active learning through a vast repertoire of songs and the Do-Re-Mi scale. This engaging and efficient learning process encourages children to explore music through singing and movement, all while developing their 'ear' for music.
Under Radford's skilled tutelage, students grow and flourish as intelligent, happy young musicians. She takes immense pride in witnessing their musical journeys unfold and in contributing to their lifelong love of music.
Your Trusted Partner in Musical Education
The #Sharp Kids Programme is proudly offered by The
Piano Academy of Ireland
, celebrating its 18th year of nurturing Ireland's young musical talents. Led by the dynamic duo, Dr. Archie Chen and Rhona Gouldson-Chen, we're dedicated to shaping the musicians of tomorrow.
To teach a child an instrument without first giving him preparatory training and without developing singing, reading and dictating to the highest level along with the playing is to build upon sand."
Zoltan Kodaly